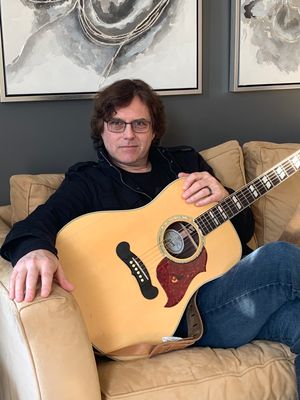 From Day One… 
The very first records I remember being played in my house are still some of my favourites to this very day. Artists such as Gordon Lightfoot, the Beatles, Elton John. That music was like sonic DNA or something. Since that time I have heard and loved hearing and playing so much music, yet those first songs have stuck. In my development as a songwriter, instrument player and singer, I have strived to implement sounds, arrangements, and images from those records. I've always loved Lightfoot's 12-string acoustic guitar tone, Elton John's piano-driven songs, and Paul McCartney's melodic, yet fundamentally solid bass playing. 
Introduction To Playing Music… 
My family lived in west-end Toronto until I was about one and a half years old, then moved to Mississauga. We lived there until I was ten. I must have expressed an interest in playing an instrument when I was nine, because I vaguely remember a representative from a local music school coming to our house with an accordion, and a guitar. I recall finding the accordion quite burdensome in weight and girth, so naturally I leaned towards the guitar. Now that I'm bigger, I should take another crack at the accordion! 
We moved to the Leaside area of Toronto when I was ten. I soon took guitar lessons, but I couldn't apply myself effectively to the methodical and theory-oriented course. I soon dropped the lessons, but returned to the instrument a couple of years later when I bought a Paul McCartney and Wings song book, which had box chord and lyric charts. I can't recall how it happened, but I eventually began playing rhythm guitar along with records I enjoyed listening to. To this day, I'm not much of a guitar soloist. However, rhythm playing seems second-nature to me, and I find that many of my own compositions are driven by my strumming. 
Taking Up Bass… 
Then, when I was 14 or 15, I found myself in a movie theatre watching The Who's documentary 'The Kids Are Alright'. I was astounded by the overdriven bass sound and dominating technique of John Entwistle. I also found his stoic, static approach to his stage presence quite curious and unique. I'd be a liar if I said I haven't tried to emulate his approach to the instrument over the many years. 
That formative experience drew me to the bass as my main instrument. I have been blessed with countless musical opportunities as a result, but time and maturity (well, more maturity than time) have taught me that the bass line of every song I play cannot be like 'My Generation'! I like to think that, as a bass player, I can hold things down nicely, but still be able to carve out a unique sound and melodic style, and call upon that when required. Ultimately, it is and should be always about the song though.... 
First Bands… 
I was working hard at the bass by playing along with records. Soon, I was invited to play in 'Stage', a group formed by schoolmates at Michael Power High School, and my own St. Michael's College School. I was too terrified to attempt singing at this point, but gradually became more confident on the bass and playing in front of crowds. We produced a 45 rpm single, and I was a co-writer on one tune, 'Love Is Always Lost'. In the perspective of hindsight, our time as a group was relatively short-lived and fleeting, but I will always look back at those times fondly and gratefully. 
Towards the mid-eighties, I joined 'Living Room'. We played many of the Queen St. clubs in downtown Toronto, and recorded a 4-song record entitled 'Asleep'. The title track had an accompanying video and was played on Muchmusic, the "Nation's Music Station", as self-advertised. The record received airplay on Canadian college stations. 
'Counting The Days' was my first self-composed musical product. A six-song cassette tape, produced with a rented four-track reel-to-reel recorder. What a blast! I was really turned on to songwriting during this period (around 1988). In 1993 I released 'Never Ending Highway', a four-song cassette.
First Homegrown Recordings… 
I would often (and still do) utilize stuff found around the house for percussion: a tin sugar bin for a bongo, a telephone book with aluminium foil taped on top struck with wood rulers (for a brushed snare sort of thing)… Necessity truly is the Mother of Invention! In 2004, "Life Stories" CD was released - a mix of my best numbers from the earliest home recordings, onwards. 
Crown Jewels… 
In 1995 until 2010, I was a member of the Crown Jewels, a Sunday jam night house band at establishments in the Yonge/Eglinton area of Toronto. This musical and social experience was truly an appreciated highlight in my life. Great players, friends, guests, and lively venues.
Retrofits… 
In the early 2000s, I was very fortunate to reconnect with Martin Barret- musically of course, but more importantly as friends. Martin had always been singing tremendously. As well, he was always writing fantastic songs and playing guitar, piano and harmonica. When we began discussing the possibility of creating a joint musical act, I was thrilled. I also was looking forward to becoming a better singer and performer with Martin's advice, support and high level of professionalism. 
Martin's wife, Nancy Douglas, performed on keyboards and vocals during the live shows. We had a great time getting together, laughing and playing music. I owe a great debt of gratitude to Martin for getting me established with a home studio, as he had. We played on each other's compositions and, in turn, these songs were an integral part of our live act. 
Almost coming full circle (in a strangely ironic twist), we enjoyed performing many of the 60s and 70s numbers we love best. Some of those songs were the first I ever remember hearing… 
My five albums.... 
From 2009 until present, I have released five albums that I have been very proud of ("Diesel Tumbleweeds and Other Tales", "Reinvention Intention", "Catharsis In Cadence", "Transmitting Mysterious Wisdom", and "Beneath A Tangerine Light"). All five albums would not have been possible whatsoever, without Martin's support, recorded performances, co-advice and co-production. Not to mention the tremendous encouragement from family and friends. 
I wrote, performed and mixed "Catharsis In Cadence", "Transmitting Mysterious Wisdom" and "Beneath A Tangerine Light" in their entirety....
Thanks for reading! 
Matthew